Teaser Video
With an unending wish-list of exotic rides on our vast planet and having ticked off Europe & India in 2010, myself & wife were constantly asked "where next?" Although I was itching to ride in Africa, a continent which always intrigues & amazes me, but Africa being so huge, every time I looked up the map, I started in Africa but lost track & ended up somewhere else on the map as it was difficult to decide where to make a start. Besides, the trip was not about me as a passionate biker simply riding into one sunset after another in Africa, but I had to also take into perspective the expectations of my able lieutenant & my only support crew, my darling wife, and arrive at the best possible compromise of things to get out from this trip for both of us. Ofcourse, riding 2-up with a heavy bike it was of paramount importance that we stayed on tarmac roads, cared well for our personal & road safety, needed good infrastructure, combination of scenery-mountain passes-wildlife-seashore, nice rental bike, great food, affordable accommodation etc. So we finally zeroed into the rainbow nation, yes the amazing South Africa! Afterall, it was the best bet in terms of convenience, accessibility & diversity. This country has 11 national languages, over 72 dialects and a geographical orientation about as diverse as its people. It is quite simply a world within one border. However, with a limited eight day window (that's all our kids have approved us from their school vacation time!), we decided on doing a long loop starting & ending the trip in Cape Town.

Indeed, from my school days most of what I knew of South Africa was limited to being the place where India's greatest son- Mahatma Gandhi started his freedom struggle against colonial rule, while things like apartheid, the legend called Nelson Mandela, Diamond mines, Wild life, First human heart transplant etc were the other notable features. Whereas in more recent times the memories of the wonderfully hosted Football world cup, Indian Premier League(IPL) cricket tournament and tons of negative publicity for crime that country wrongly or rightly receives came to mind. Incidentally, I happened to read about a bike tour guide jokingly briefing his co-riders at the start of a trip in Johannesburg, "In the suburbs just watch out for stones being pelted by urchins, but don't worry about bullets, you won't anyway see them coming!!" Plus a lot of relatives & friends' first reaction hearing South Africa was- "Isn't that a dangerous place?" So naturally I was a little apprehensive on the safety aspect especially traveling with a very precious cargo on my pillion seat! I was not paranoid but we had to do some research, asking around, googling and then make an educated decision on all aspects of our ride including the use of a good measure of common-sense & constantly remind myself – "There is only a fine line between adventure & stupidity".

But after concluding yet another dream trip on two-wheels I can boldly say South Africa is just like any other country, which will have its good, bad & the ugly. Although the crime issue is generally exaggerated, you'd be foolish to get lost. The general rule in South Africa is that if you don't do anything stupid, and follow the locals advice then you're as safe as anywhere else on the globe. So don't blame it on the country or your bad luck. Simply put - Prevention is better than cure. As for traveling almost 2000 kms all through the western cape of South Africa on 2-wheels, we never ever felt intimated even once and almost all of the people we met along the way were some of the nicest human beings one can come across, truly endorsing the fact that South Africans are known for their outstanding warmth & hospitality. As for the beauty & diversity of this amazing country, story & pics should say it all.

Sincere acknowledgements
Myself & wife are grateful to both our families & friends (online & offline!) for their continued support & encouragement for our moto-adventures. Also a special gratitude to our wonderful children Adil & Amal for letting us off the hook for a few days and to my in-laws for taking care of the kids during our trip.

Most importantly, this trip would not have been such an enjoyable & unforgettable one without the active help & guidance of Chris & Celia from Bikebookings, who tailor made the route & stay arrangements based on our specific requirements. They run a farm with crops, ostriches, sheep, wine making etc for a living and as a hobby run the outfit bikebookings making full use of their vast experience on biking in South Africa and nearby countries. Thank you Chris & Celia.

And as always, sharing this trip with all of you would not have been so much fun without the endless pictures & videos that my long haired general went on shooting all along the trip even at the cost of earning a really dark sun-tan on her hands from the scorching African sun and braving the brutal cross winds on many of the days. Thanks Farzana.

Countdown
As a husband-wife team with two diverse kind of international motorbike trips in Europe & India under our belt, we were very excited about Africa, but frankly Mrs & Mr Adventure just did not know what was awaiting us there coz all their tourist brochures said "Leave ordinary behind" so what do we take with us or rather bring back with us??? The research & preparations for the ride started almost 3-4 months earlier and for a start, the visa was a relatively simple & pleasant formality (shows the country cares for tourists) while flight bookings and endless searches on the internet for the minutest of details on South Africa & what to look for, what to eat, where to get deals etc were 'sub-contracted' to Mrs. Adventure. Ofcourse, as always she still has to do all the packing & like the earlier trips, did I say make tea for me!! The bike rental was arranged with motoberlin in Cape Town and for the route suggestion, accommodations etc, being the peak season in South Africa & not wanting additional challenges on the security front, this was the first time on a bike trip (more by chance) we contracted Celia & Chris from bikebookings who did a marvelous job for us. Mr Garmin GPS as always told me "Use me or get lost buddy!" so I decided to retain his services to make sure we never lost our way (but the rented Mr. Garmin Zumo 550 had a separate agenda, which you will see later in the report!)

Starting at Bangalore International Airport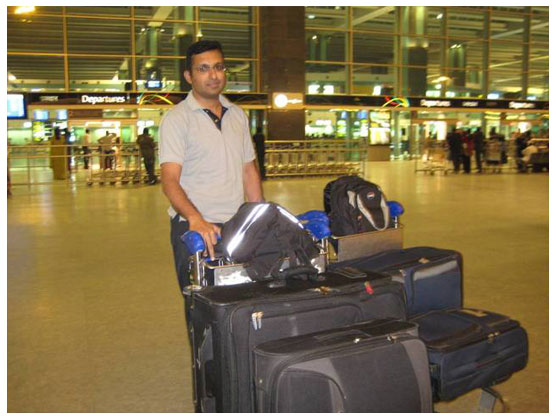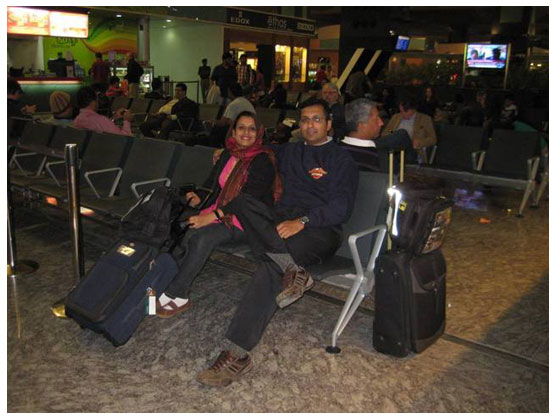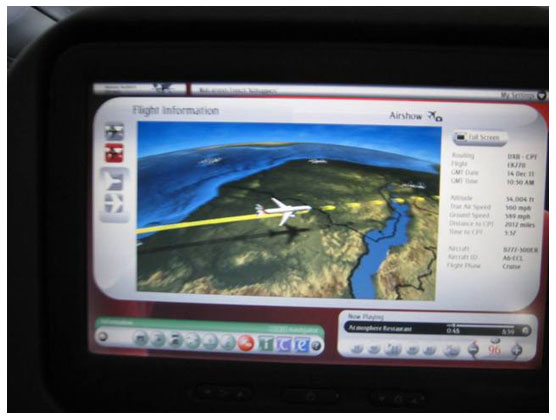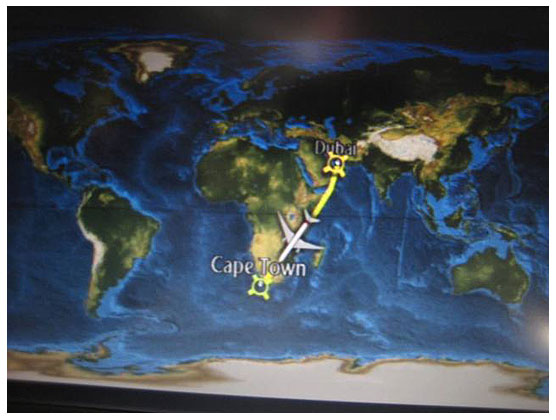 At a height of 34,000 ft with seats comfortably reclined on our emirates airline flight, Mrs & Mr Adventure are anxious & excited about the following 8 days of bike travel in Africa. Will it meet our expectations, how safe are we, what things need to be avoided, what things need to be enjoyed. Also my wife asked me, after seeing the unrivalled beauty of the European Alps, can anything be better? We soon dozzzzzzze off. We wake up as we are approaching SA and I look out of the window at the vast spread of unending mountains.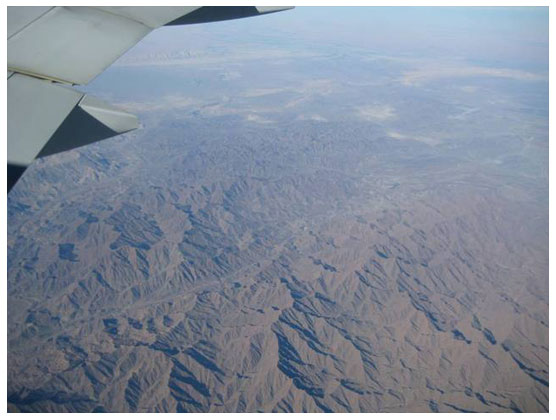 For a few moments I started imagining the thought of a harmless guy like me riding between all that mountains in a remote part of the country with my wife and imagining suddenly looking down the barrel of an automatic gun on a lonely highway..… gosh, my imagination also takes me places sometimes!! Getting back to reality, a long & tiring flight that takes us from Bangalore to Cape Town in about 14 hours….in cramped economy class ofcourse! We soon land into Cape Town & arrive there to a cloudy & cool day. Lets say in Afrikaans -Suid Afrika – Hier kom ons! (South Africa, here we come…)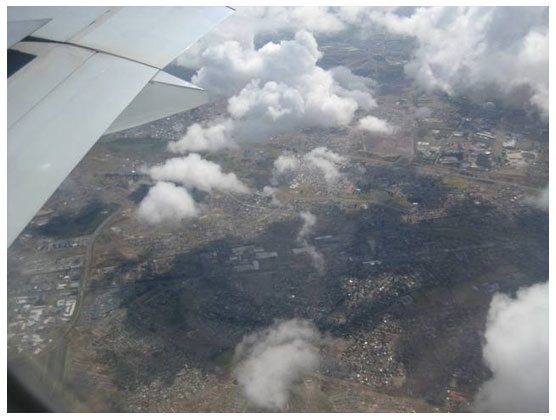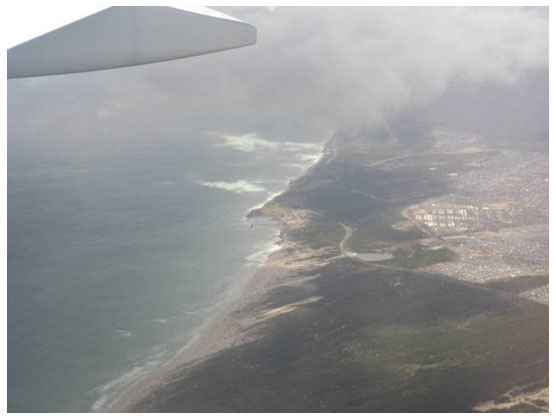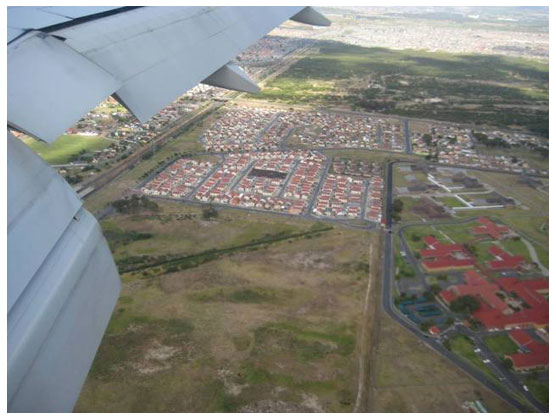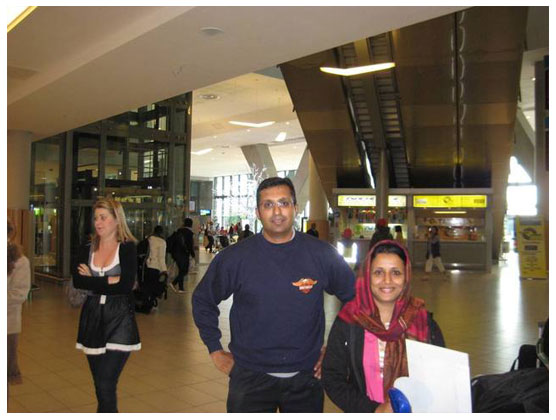 The airport transfer takes us to our temporary home base in Cape Town, our simple accommodation at the friendly, clean, reasonably priced & centrally located '17 on Loader' Bed & Breakfast that is close to the V&A Waterfront area which is a major tourist attraction and where the bike rental is also located at the BMW Pavillion.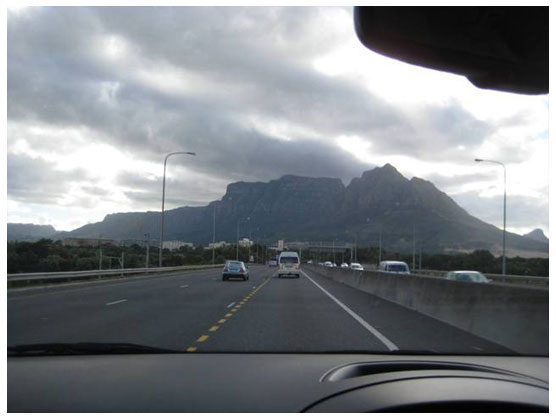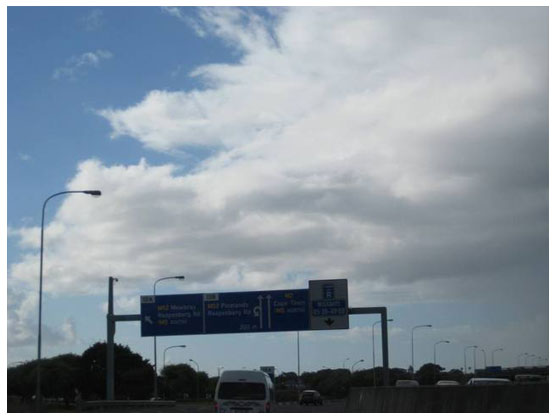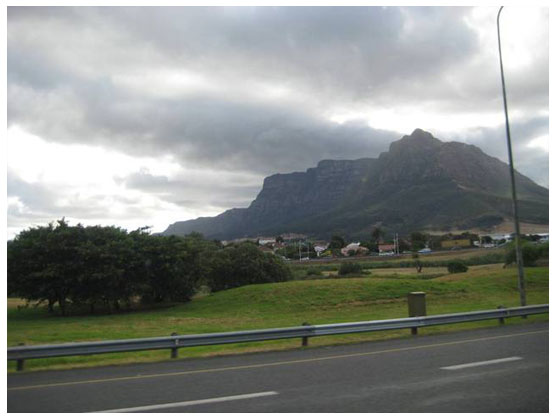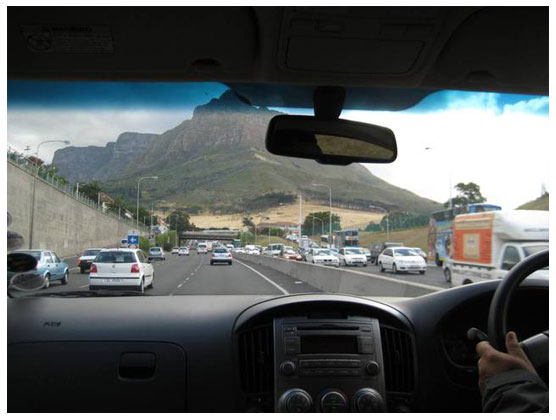 At the B&B, our host Benjamin takes us to the roof and shows us the ariel view of the city and gives us tips on the things available nearby and places to eat, landmarks etc. He assures us for many blocks around our location are all safe well into the evening and nothing to worry. Outside our B&B in Cape Town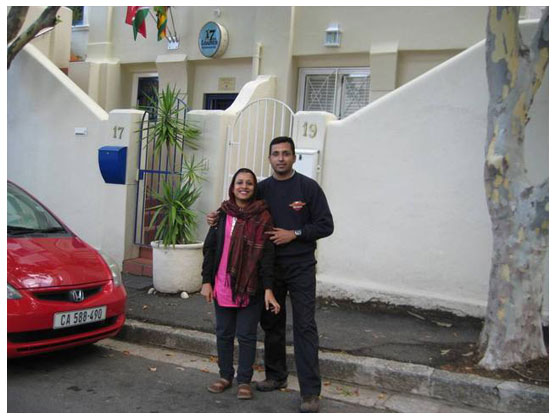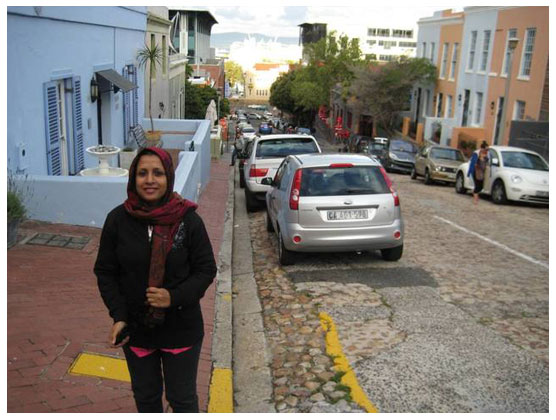 From our roof top The iconic Table Mountain in the background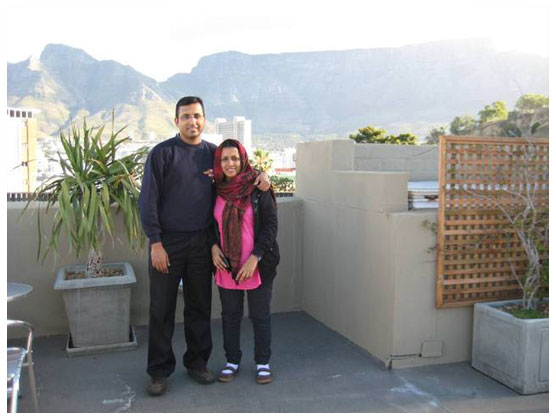 The V & A Waterfront in background, where the third & most important member of our trip eagerly awaits us (bike!)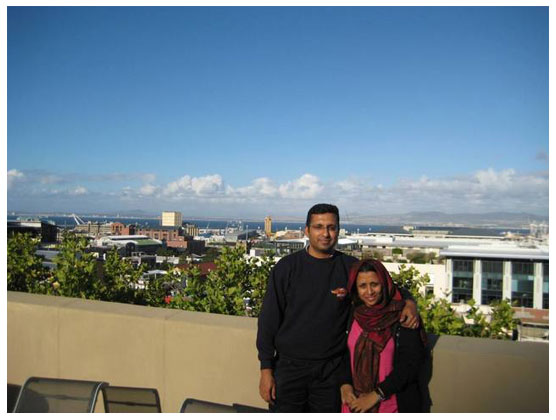 We unpack and I find that my electrical extension cord is not fitting the SA wall socket. Fortunately, there is a Spar supermarket nearby and I get an adapter. Some more essential purchases and we head for dinner to a nearby seafood place called Vanilla. Dinner consisted of Fried Calamari fish with herb potatoes & Penne Arabiata & fruit juice. After all, with 2 oceans meeting in Cape Town, seafood is everywhere.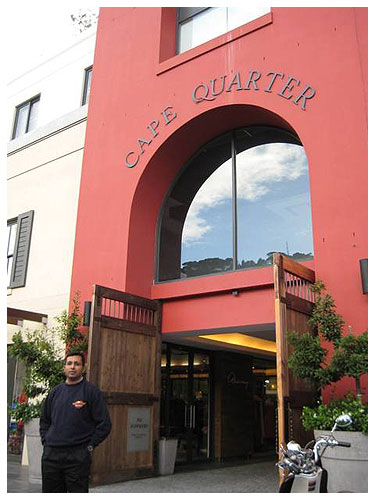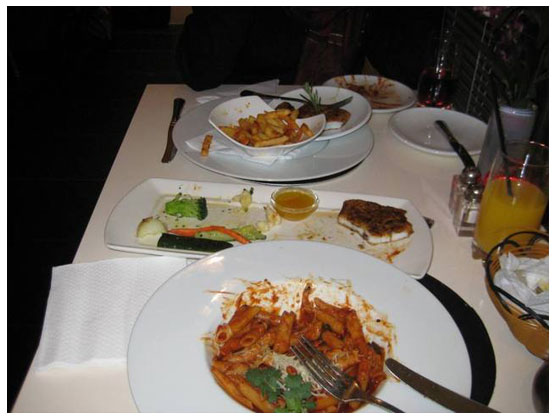 By the way, the fruits in South Africa particularly taste too good.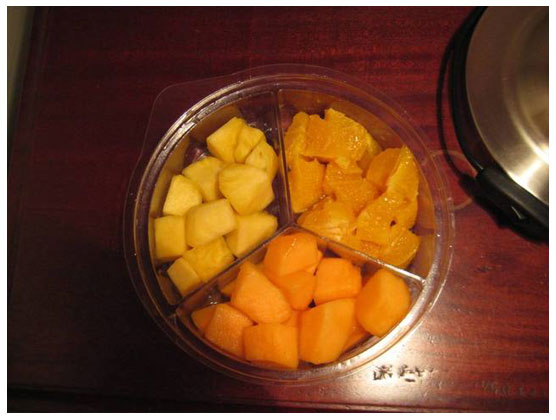 We get back to our room and start segregating the things for bike trip & things to be left back for safe keeping in the B&B (where we will stay for another 2 nights after the bike trip). Tomorrow is the big day....

As an indication, this is the complete route we did