19-25 May 2010

Although the idea to tour in one of the most breathtaking biking roads in the world had been brewing in my head for more than 10 years now, it always ended with "Some day I will do it". Other priorities in life always took precedence and this was left in the back burner. BTW, the other dream rides in my head still include – New Zealand, South Africa, South India Peninsula ride (hopefully on my own GS) and probably my final frontier- The mighty Himalayas someday.

Last summer on vacation in USA, we traveled by car thru the back roads of New England and I had decided that in 2010 I will rent a bike in Boston and ride all the way to the worlds largest bike touring rally- The Americade in Lake George. My wife although not much interested in bikes etc, has always been very supportive of all my biking fantasies. I sometimes wonder how she puts up with it as a non-biker! Thank you Farzana. Anyway, I asked her if she would like to join me & she instantly agreed! Come January 2010 when I was thinking of planning this crazy trip, my wife came up with the party-spoiler - A ride in June was impossible as kids schools would have reopened. So she asked me if we can make it to Europe during second half of May when kids are still in Vacation, besides, its comparatively closer to India! This instantly stirred up my old unfinished fantasy and I said Europe could be on one condition- We tour the mighty Alps. DEAL DONE. Then convinced the kids that mom & dad needed few days for ourselves- Approved with some reservations ofcourse! All this said, neither of us had any clue how to go about this wonder trip...!! That's when I told my wife I have another family that will surely help and so I put up queries on Advrider & Horizons Unlimited. It is with a tickle in my heart & a lump in my throat I have to say that biking brotherhood truly transcends borders, languages, religions & every other manmade barrier. The replies I got were so heartwarming & encouraging that we just had to follow their suggestions & guidance. Basically, we were guided to Karl Maier BMW in Munich who rents good bikes, then we were advised to carry good road maps (I went with Michelin maps for Germany, Austria & Italy). GPS is not essential but helps greatly in larger cities (got a Garmin Zumo660) and one important book for anybody planning the Alps ('The Alps & Beyond' by John Hermann). I was guided to a few websites as well as many individual trips undertaken by different riders and some of them were in contact with me almost on regular basis to answer the silliest of questions (thanks Phil & Jim), which were mainly because this was the first time for me in Europe on a bike; besides it would be the first time for my wife with long hours on the saddle; Europe being an expensive continent, I had to play within a fixed budget etc etc, so I always had many anxious questions. Lastly, given the limited space available on a bike, the things to carry for a week long trip was another challenge over which I & wife would have had about 167 arguments. Finally we decided not to take the kitchen sink!!!!!he he..

The Journey begins
Fast forward few months, with Schengen visas stamped, bike rental arranged (no hotel reservations- just walk in to whats within our budget & sleep for the night) & flight tickets taken care of, we leave our darling kids Adil & Amal in the safe custody of grandparents and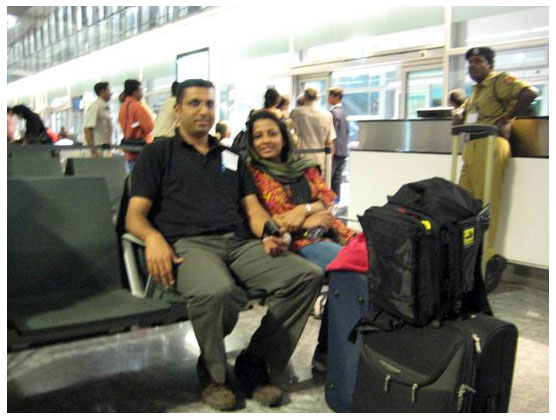 here we are sitting at Bangalore International Airport waiting for our Qatar Airways flight thru Doha to Munich. The excitement, the tension, happiness, worries of uncertainties are all running simultaneously thru my head. What if the baggage doesn't arrive, what if the GPS goes kaput, what if the bike breaks down, will the rain spoil the whole dream trip esp given the weather forecast the previous few days looked grim, and finally what if we have a spill…. Then I just put some positive energy into my head and said- lf we have decided to take the plunge, we are going all out & have a blast.
After an uneventful flight, we arrive into Munich around noon time on 18 May.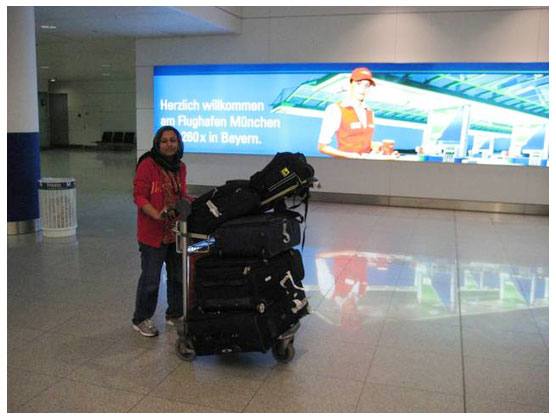 Its summer but the weather is cloudy & cold. The forecast for last few days was all rains, but today it was not raining. Fortunately, no missing bags etc and we are out of the airport in no time.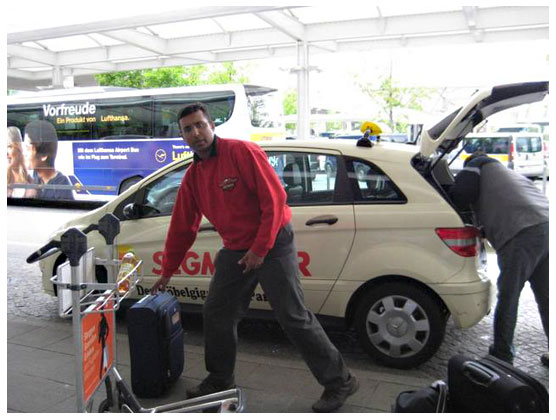 Take a Taxi to Pleining where we have reserved a Bed & Breakfast accommodation (B&B) at Landgasthof Hotel Forchammer (that's the only pre-reserved accommodation for the trip).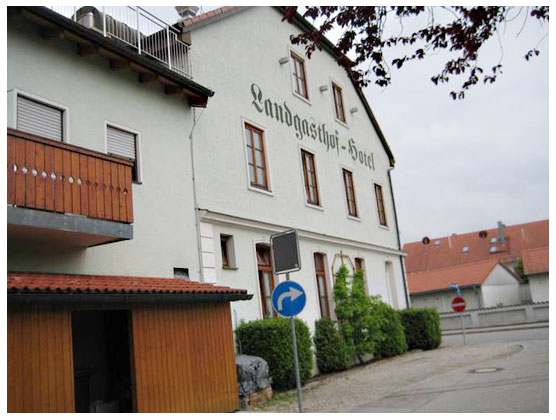 This is close to Karl Maier BMW in Neufinsing from where we will be renting the bike for the trip. Its a 40 minute & Euros 60 ride from the airport. Check into the B&B and my wife goes cold seeing the large Rhodesian Ridgeback dog owned by Mr. Forchammer. Anyway, I quickly take my riding gear, helmet etc and call Karl Maier, who arranges a car to pick me up. We reach there and its a huge BMW bike dealership and seems they have been in this business for almost 3 decades. Meet the owner Karl Maier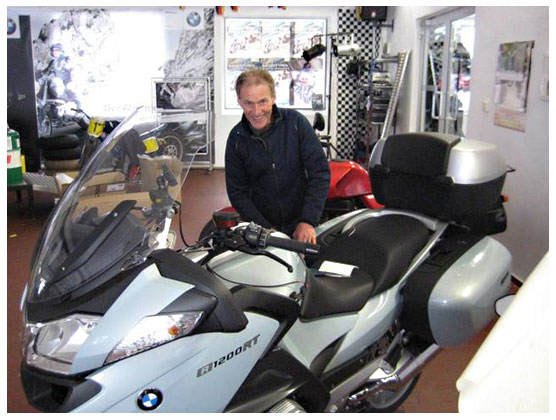 and his graceful wife Magdalena with whom I have been exchanging emails in the past for the bike rental etc. Very friendly people and we have some chit chat & I am all eager to see the bike that will be our companion for the coming 7 days. WOW, wow, wow… Karl shows me a light blue-grey R1200RT and tells me it's the latest 2010 model bike & I am going to be the first person to be riding this spanking new bike. Yes, this is the new DOHC engined bike. We soon get thru the formalities and they put on some protective stickers etc and I also request him to fix the mount of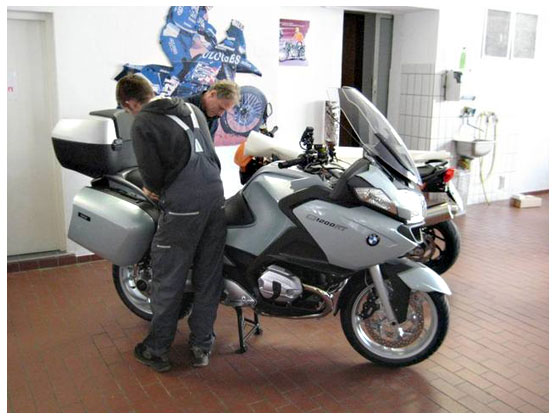 my Garmin GPS which he happily obliges. As I leave, Karl again reminds me to be careful and not scratch the bike as I am the first user of this bike. BTW, Karl knows his business well & all his rental fleet is in service only for maximum one year after which he replaces them with the new model. So you wont get a bike that is older than a year. He has a long list of renowned customers including people such as John Hermann (referred to in the prelude above) and one of the most prestigious bike tour operators in Europe (I wont name them!) also rent & service their bikes from Karl.
I have earlier ridden by buddy's 2008 RT in Saudi Arabia, but this 2010 DOHC model bike seems to have some more punch in its engine. My only gripe about this bike is the positioning of the new turn signal switch (which for the first time BMW has made into one single switch on the left side like most of the remaining biking world does), as the audio system volume control ring between the switchgear & left handlegrip takes up space making it difficult for my thumb to easily reach the indicator switch. Anyway, I reach my accommodation and take my wife out for a small familiarization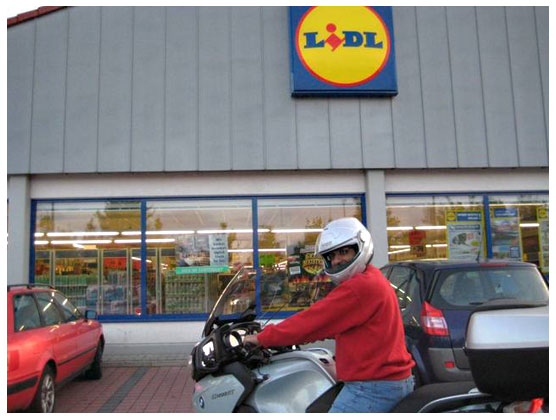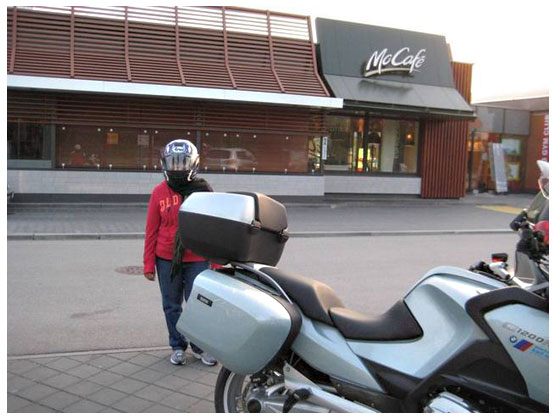 ride for dinner and some minor essential purchases. The dinner at McDonalds had the first comic situation of our trip when I said 'no pork in my chicken burger'- the lady who did not speak english said 'OK no-no' and I got my burger with 2 buns and some lettuce in between- The chicken was also removed!!! We tested the GPS and our all-important Chatterbox rider to passenger intercom (no Bluetooth stuff, just the old fashioned cable type intercom). They all work well and we are ready for our big day tomorrow.

Acknowledgements

Before I start the report, my sincere appreciation & thanks to my wonderful wife, who on her maiden bike tour coped very well with all the challenges (including overcoming her fear of heights in the high mountain ranges of the dolomites) and inspite of biting cold riding conditions, she managed to remove her gloves many times and clicked all the wonderful pics & videos from the pillion seat of the bike & handled all the trip logistics. OK, we both shoot with simple cameras & download the pics. So don't expect us to use any hi-tech image enhancing softwares etc.
This report would also be incomplete without conveying my sincere heartfelt thanks to the members on the Advrider & Horizons Unlimited forums who guided me with all the necessary routes & other information. So a very special thanks to Philofax(Phil), on2wheels52(Jim), TexPaul, PFFOG, MichaelJ, RTLover, Fabio, Andysr6, El Aleman, jrob0311, jgconzemius & my local riding buddy Skander. Also, to my dear brother manuka for his encouragement.

Just as an indication, this is the complete trip route we did