"It's the ride, not the destination"
Video summary of our US bike trip


Be it the unrivalled natural beauty of Europe, the incredibly colorful & vibrant sights of India or the wild & extraordinary experiences of Africa, the touring bug inside me & wife was unrelentingly pounding our hearts & minds like a jack-hammer asking for more action..... It was like sitting on a giant roller coaster with the brakes switched off on purpose!! While, our kids were being very fair in giving us some time for ourselves to pursue our various rides so far, we decided this time we will combine a family vacation with a 'small side trip' for me & wife exploring some wonderful motorcycling roads. And with my ever hospitable brother-in-law having an all inviting cozy place to park ourselves for as long as we wanted in Boston, we head to the land of dreams - United States of America.
Right from my youth days, my passion for riding has always been fuelled by the innumerous motorcycle magazines mostly from the US that I used to buy from a particular street vendor in my city of Bangalore (the wonderful internet & online forums were not invented yet!). Infact, with severe monetary constraints those days, I always bought back issues off the street at one-third the original price since getting to read & fantasize the experiences of those super rides some months later never made a difference. And reading them repeatedly never diluted my enjoyment factor either and probably that was the closest yours sincerely could get to the whole biking experience without having the means to buy an actual bike. Those were indeed some tough times…..Anyways, much later in life when things got brighter and having made numerous short company paid official trips to the US, the desire to take a bike & just ride off into the sunset got stronger, though my stars, time & wallet somehow never seemed to align for such a US ride...
So come April 2012 and we all head out to the US for a family vacation with our home base being Boston. Leaving our kids behind safe at their uncle's place in the suburb of Malden, MA, myself & wife undertake a week long sojourn thru the fascinating back roads of New England, which most of you may know consists of the north eastern states of Massachusetts, New Hampshire, Maine, Vermont, Connecticut & Rhode Island. We also did shave thru a part of upstate New York enjoying a varied selection from gods menu of ocean view to high mountain ranges to twisty roads to meadows to woods to rapid flowing streams to deep gorges to what not. Endless riding bliss on a motorcycle.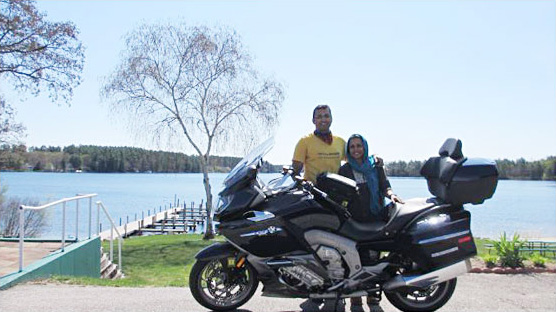 Acknowledgements
A big thanks to my sweet brother in law Manaf & his wife Afrin for their endless hospitality, my wife's mother as well as nephew Numair & Niece Norah who took care and gave great company to our kids Adil & Amal during our absence. I am sure our kids were glad to allow us some free time to enjoy some freedom for themselves as well! Manaf, Afrin & Norah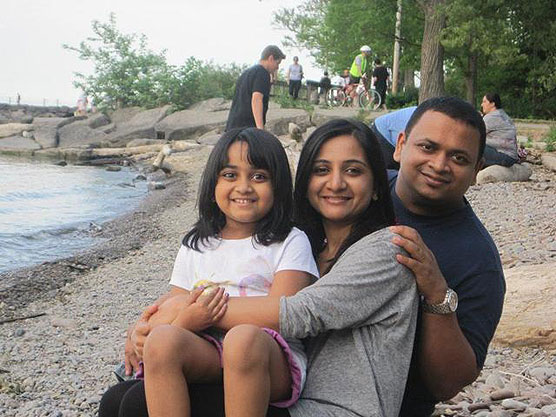 Sincere gratitude to David in Maine from ADVrider, who straight away volunteered and sent me by international post all the relevant road maps together with tips to fine tune our route. Unfortunately we could not meet enroute. Also, a big heartfelt thanks to Eric Milano from the bike rental outfit MotoVermont (www.motovermont.com), who conducts his business as a thorough professional with a very caring & personal touch to everything and that made it one of our best rental experiences we have ever had. Also his suggestion to upgrade the bike (no less than the BMW K1600GTL!) and tips for some of the roads, hotels & overnight halt overs were spot on. Thanks again Eric.
Countdown
Unlike all our other trips, I must admit this was the least pre-planned.…and frankly it did show in some places!! Pre-vacation an extremely busy work schedule for me, while my wife being fully pre-occupied in preparing the kids for their annual exams meant, we just did not have enough time for googling, mapping & picking out places. It was like a ride to nowhere….Leaving India, we simply dumped all the bike related gear, GPS and other essentials into one separate travel bag that was to remain untouched till the bike trip which was scheduled towards the end part of our family vacation. Hence we were one large family that traveled from Bangalore in India to Boston in US on a holiday and without breaking from the 'Great Indian's tradition' of the obligatory visits to Niagara, DC & NYC for the respective been-there-done-it Kodak moments, we subsequently started working on the 'Bike trip planning'. We said a BIG NO to 'boring interstate freeways' (although that did change as the trip progressed) and plotted only backroads. Well 12 hours to kick-off is when the final route was decided…..As for accommodation, since it is the off season, we didn't make any pre-bookings but decided to walk in and try the old & trusted art of 'bargaining' at the lobby of the hotel each evening…and jokes apart the hard bargaining worked very well as we ended up paying less than one third the regular tariffs in most places!
Coming to the trip- amidst light evening showers Eric from MotoVermont arrives in his large van to deliver the bike and as the door opens, it reveals an absolute beauty of a machine in deep blue-black paint with its brutal looking headlight staring right into my eyes. It sure had an intimidating look! Yes, there stands the majestic BMW K1600GTL- probably the most technologically advanced motorbike on the planet at this time. Its big and I am sure its heavy. After unloading the bike and going thru the formalities & the bike's controls, Eric hands me the keys and as I am all ready to thumb the starter button, I can suddenly feel my heart beat getting stronger. The engine roars to life and the idling sound of the Inline-6 engine by itself is scintillating…and a quick twist of the throttle throws out a deep & refined roar that is simply unexplainable….Anyways, I sit with Eric & go over the maps and he gives me some nice pointers on scenic roads, places to stop, stay, eat etc….so tomorrow the ride begins.
An indication of the route map for this trip